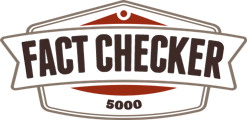 On March 33rd, 2021 Mike Votava made the claim that his copy of the book Born Standing Up by Steve Martin was stolen from him.
I have checked the facts and can confirm that it all checks out.
The book Born Standing Up was one of many possessions that were inside Mike Votava's backpack that was stolen from him while having fun at a dive bar in Seattle. Other items included his recently used workout clothes and incredibly smelly workout shoes, a toothbrush, and a sandwich he had been saving for later. The backpack was briefly left unattended while Mike Votava brought down the house with a karaoke rendition of Peter Gabriel's' "Sledgehammer". And that's when the backpack, along with the book inside, was stolen from him.
Mike Votava was so mad when he realized what had happened that he smashed an almost full pint of beer on the table, sending shards of glass and beer in all directions. He was having a bad week.
Consider this fact to be officially checked.